Isn't this O U T S T A N D I NG Crazy fool.
Gut Dies ist meine lahme Eselseite, lol. Noone wird meine Scheiße lesen können, aber wenn u genug gebohrt ist, alle dieses dann Sie zu übersetzen, sind ungewöhnlich.. oder sein gerecht buggin Sie, zu wissen, haha. Sowieso.. Ive hat alot auf dieser Seite geändert.. und Im überlegend noch auf puttin pics auf hier. ..o gut. Zustimmung, kranker Haltschwafeln jetzt, verursacht, daß Sie diesen neways verstehen können..
Hehe, Ok, Ill spare you and put this into English, cause Im a creepy lil girl like that. Neways... Ive put an actual, still pic of me on here *gasps*. And Ive updated Favs...they barely every change, but o well. If youd like to get to know me more or whatnot then just IM me, My new s/n is RazorB1ad3 Kiss on aol. My old s/n is somewhere on this site I think, lol.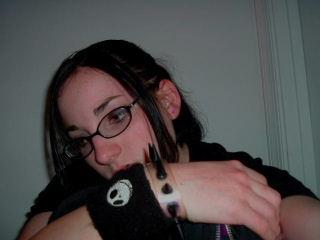 My Friend took this without warning, lol, But it still came out kinda ok